Professional Roofing Contractor in Ashland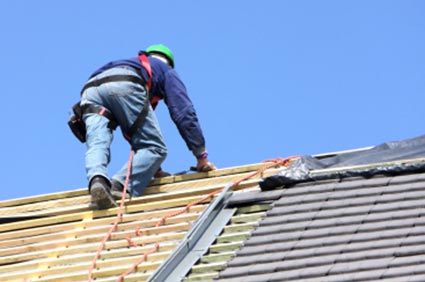 It's the middle of summer and your home just keeps getting warmer and warmer. You keep running the AC at full speed, but it's doing nothing but costing you a lot of money to run.  If you're experiencing this, then you're going to need the help of an Ashland roofing contractor. Valley Boys Roofing is able to take care of your roofing problem and make your home comfortable again.   
Ashland Roofing Contractor 
Have you ever wondered why your roof looks so good for its age? This is due to the fact that you hired Valley Boys Roofing to do the repairs on your home. Our roofing contractors are skilled at roofing work which means that you get to reap the repercussions.
If you're seeking quality work, then let our roofing contractors take control of your roof. You'll enjoy the fact that we're insured and licensed in the state of Nebraska. We even come prepared for every roofing job that we do. 
We're basically a roofing company on wheels. Everything that we'll need for a job will be in our trucks. You won't have to wait for parts to show up. We're prompt and convenient. Call to take advantage of our roofing service and you'll see.   
Ashland Roof Repairs 
Reasons to have roof repairs done by an Ashland roofing contractor:
Work gets done on time- If you were to do roof repairs on your own, how long do you think they would take?  It's a lot easier and less time consuming to hire a roofing contractor than to do it on your own. 
Quality work – You'll always get quality workmanship done when you go through Valley Boys Roofing. Roof repairs are done well with our guys. We pay close attention to damages so that they are taken care of the way they need to be. 
Customer service – Who gives better customer service other than a local roofing company like ours? It's true, local roofing contractors give the best customer service because they value you as the customer. 
Safety – We practice safety first at Valley Boys Roofing. Any time that we're up on your roof doing repairs, we'll be tied off and will eliminate any obstacles that present hazards in our way. We want to provide safe and convenient roof repairs without any issues.   
Ashland Attic insulation  
Lots of homes, that were built decades ago, were not properly insulated. Have you ever noticed how cold your grandma's house is during the winter? This is the reasons behind it. You can crank the furnace, but it's only going to break the bank.
We have the solution for your grandma's house. Adding attic insulation will provide the warmth that her home needs , so whenever you come for a visit, you'll feel warm and cozy. Ask your Ashland contractor for more details.
See What Our Valley Customer Are Saying About Us
Valley Boys Roofing is Rated: 5 / 5
based on these 1 happy customer reviews.
---
---
Recent Articles
Better Understanding Your Freemont Roofing

When it comes to Freemont roofing, that tends to be a topic that makes homeowners nervous. No one wants to think about the possibility of having problems or needing repairs, so instead the more popular stance is to act like an ostrich with its head in the sand. The thing to keep in mind is...

Read More
Avoid Roof Problems in Omaha through Roof Inspections

The roof of your Omaha home or business is the first line of defense against inclement weather.  Your Omaha roof provides your family with the comfort and security that they expect and deserve while within your home.  Likewise, your roof protects the substantial investments of time and money you have placed in your Omaha business....

Read More
If you are looking for a Ashland Roofing Contractor, please call Valley Boys Roofing at 402-898-7108 or fill out our online request form.