Searching Tile Roofs in Omaha, NE?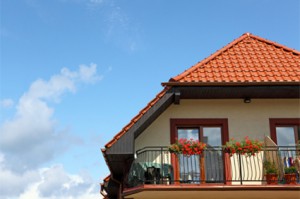 When seeking an esteemed roofer to set up or replace your Omaha tile roof, then call the roofing experts at Valley Boys Roofing. You'll always be in good hands when you go with our roof replacement/repair service. Call to link with our roofers to schedule an appointment. You'll be making the move in the right direction for your roof. 
Tile roofs have more of an advantage over other roof types. Tile is good because they are built to last a very long time. Many roofs start to deteriorate after 10 years or so. This is not the case with tile roofs. They've been around for many centuries now and are still a popular pick for roofing. 
Tile roofs are very strong and very durable. This is an underrated roof type as they are not as trendy as asphalt and metal roofs. If you want something different, for your roof, that's not going to buckle , then go tile. 
Tile roofs are fire-resistant. That means you won't lose everything and will be  a lot safer. Of course any fire should be taken serious. If one should break out in or around your home, contact your local emergency responders. 
You'll want to know your roofing contractor no a level that you can trust them. The more that you find out, the more you will know about roof types and roofing materials. At Valley Boys Roofing, we want to get to know you, so contact us for an estimate. After that, we will have your Omaha tile roof installed in no time.   
You'll really appreciate your new tile roof as it's resistant to insect boring. If you've had problems with termites and other insects that can rot your home's roof, then let us eliminate that from your life. We're the roofers with passion. We care about your roof and don't want to see it eaten alive by insects.  
Since 2002, we have been the ones to go to for tile roofs. You won't have to wait long in order to have  a secure roof over your head. All you have to do is simply give us a call. We will take over from there and deliver you the dream roof that you've been wanting.  
A tile roof will make your home look more bona fide. If you're seeking a reliable roof that looks outstanding, then you'll definitely find all that and more in a  tile roof. There is so much to offer from  your tile roof. You're going to appreciate the advantages of having one. 
Whenever you employ a roofer to install your roof, be sure and find ones that come highly recommended like the ones from Valley Boys Roofing. We take pride in the fact that we are the roofers to call on in Nebraska. 
All you need to do in order to get that tile roof is to call your Omaha tile roof contractor. All your roofing needs will be well taken care of. Don't put it off. Call us today and see why homeowners in the Omaha area call us when they want great roofing done. 
If you are looking for Omaha Tile Roof Contractor, please call Valley Boys Roofing at 402-898-7108 or fill out our online request form.